Wallpaper Sticker Poster
Large Poster Format Printing
Custom Wall Murals
Custom Wallpaper

Measure your wall, pick a photo or design, and we will do the rest!
Signboard Maker is a one-stop Maker and Supplier of all types of inkjet wallpaper poster sticker for all occasions from small to large scale. We produce quality inkjet wallpaper, banner stand, bunting for exhibition, retail shop advertisement, walkway display signage, birthday banners, wedding banner, party banner, menu boards, event banners and even your home and office wall decoration and more.
Our coverage area is wide which includes Kuching, Sibu, Sarikei, Bintangor, Mukah, Bintulu and Miri in Sarawak and Kota Kinabalu or KK, Sandakan and Tawau in Sabah, East Malaysia.
So, if you need to get some ideas on the types of Wallpaper Poster, sticker or even offset printing, kindly call us now without feeling obligated. We would be most happy to hear from you to provide you with our expertise and to discuss about designing your posters or making your wallpaper according to your need. This could help save you a lot of time in your planning and budgeting process.
Why Choose Us?
click to read more
Quick Delivery & Installation
Very Competitive Pricing
Quality Ensured
More then 10 Years Experience
and much more...
We are different from many other signboard makers in the industry. Why is it so? Because we provide you more consultation from conceptual stage, design, layout, color choice, budgeting and purpose driven to achieve your expectations including poster ideas instead of just printing and sticking.
We also provide a wide range high quality signboards such as Shop signboard, Building signboard, Company signboard, Bill board, Acrylic signboard, Stainless-steel signboard, aluminium signboard, Retail signboard, Inkjet poster, Office signboard, Shopping Mall signboard, Indoor and Outdoor signboard, LED signboard, Light-box and Digital LED signboard.
With our experienced production and graphic designer team, we ensure that your wallpaper poster makes a lasting impression and our dedicated team of highly skilled technicians have the capability of meeting tight deadlines whenever required and still maintaining the quality in the finished product.



Free Consultation
No Obligation

Office Locality
Scan or click QR Code
You can also have a dramatic floor-to-ceiling image mural showing your products or have an entire wall of your choice pictures or scenery
to set the right mood. Retail stores can have custom wallpaper
that strengthens their branding.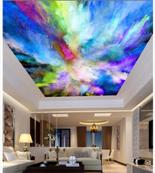 Ceiling Photo Poster